Diese Seite ist leider noch nicht in deutscher Sprache erhältlich.
AJ UNIVERSITY:™ PREPARING THE NEXT GENERATION OF MILL MANAGERS
November 19, 2018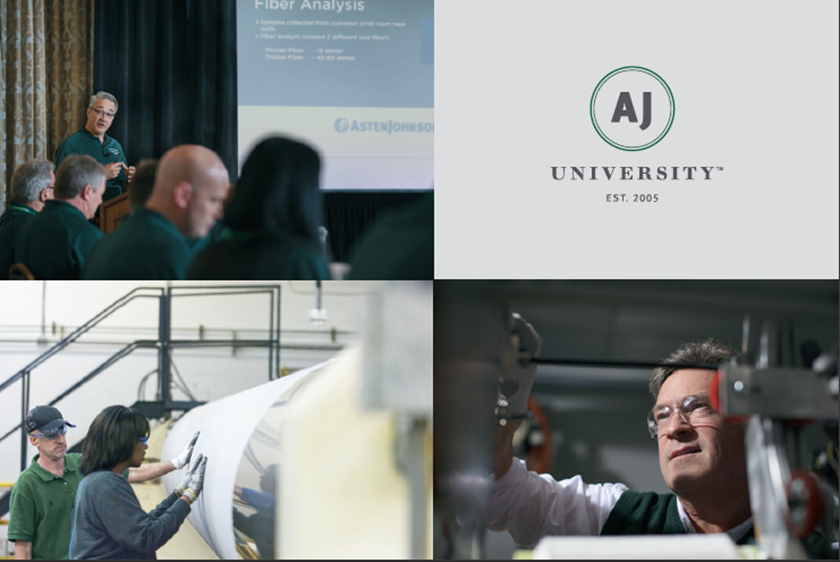 it's not all about technology. developing our "human potential" is critically important
Innovation is not just about products or processes; we also seek breakthroughs in business methods, internal systems, the development of our employees, and development of our customers' employees.
What began as "customer training" decades ago has evolved into AJ University — a community of hundreds of people who join us to learn and share insights on grade applications, fundamentals of data analysis, and roundtables focused on specific sections of the paper machine. 
Along with the name and scope of this community, its demographics are changing. Previously, the people who attended AJU were papermakers with tenure, predominantly male. This has evolved to a younger-age profile with more female representation. But all students, young and tenured alike, share an eagerness to learn. 
Although the paper industry is very technical by nature, opportunities to explore the human potential still exist. We strive to provide ample time for collaboration, interaction, and the sharing of knowledge. So whether the main emphasis is on paper grades or process areas, we learn from each other and form lasting friendships.